An old car can be a hard sell with traditional Car Buyers, but Sell your Trucks isn't your run-of-the-mill vehicle buyer! We pay Top Cash for Cars in any condition – from Old Cars, Wrecked Cars to simply Unwanted Cars. Say goodbye to the stress, hassle and time it normally takes to Sell Your Old Car and receive a Same Day Car Removals Melbourne that pays you top dollar on the spot along with a free vehicle collection. Get the Top Dollar for your Car that you seek with Sell Your Trucks.
To sell your car, contact us today at 0410 726 726
Don't Miss Out on Our Top Cash for Cars Payment!
At Sell Your Trucks, we value cars in all conditions. Most Car Buyers will only want to buy a vehicle to own or resell and so an old or damaged Car will likely be unappealing to them. However, we will happily buy old, unwanted or scrap Cars for their valuable auto parts, metals and other materials.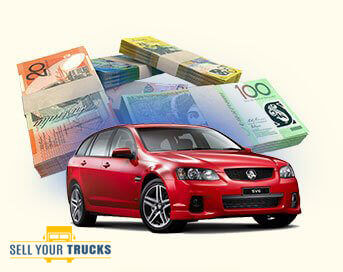 We pay Instant Cash for Cars Melbourne by Online Bank Payment or Cheque. We see value in car parts such as:
Engines
Doors
Batteries
Fuel tanks
Radiators
Front panels
Fuse box
Ignition switch
And more
Even if a car is in scrap condition and has no working parts in it, we will buy it for its scrap metals. So, no matter what the condition of your car, you can sell it to Sell Your Trucks today for top cash!
Get Rid of Your Car the Eco-Friendly Way with Our Car Recycling Service
Each year, over half a million end-of-life cars are taken off the road, many of which end up in the landfill. It goes without saying how much this can impact the environment, which is why countless Melbourne residents are choosing eco-friendly Car Recycling services like Sell Your Trucks. Apart from buying trucks, we also offer Free Car Recycling Melbourne. We allow you to dispose of your car without leaving a harmful environmental footprint and reward you with a top Cash for Cars payment for it. Our Car Recycling Facility wrecks, dismantles, recycles and repurposes auto parts and materials, leaving little to no waste. Not only does this prevent cars from entering the landfill, but it also allows more eco-friendly ways of car production.
Why Sell Your Old, Unwanted or Scrap Car To Us?
Countless Melbourne residents choose us as their trusted Car Removals service. We combine industry experience, a dependable team and top-of-the-line tow trucks to provide a peerless Car Removal Service that Melbourne residents can rely on every time.
Some of our many benefits include:
Cash for Old, Used or Scrap Cars
Instant Cash for Cars in any condition, make, model or type
Free Old Car Removals
Free Car Wrecking
Eco-friendly Car Recycling
Instant Quotes
Free Paperwork
Certified Car Removal Experts
Fast Same Day Car Removals
And much more
We Pay Cash for Cars for Any Brand
From Holden to Subaru, we will happily buy any make of car and provide you with the Top Cash for Cars payment that your vehicle deserves.
Brands that we regularly buy include:
Toyota
Ford
Holden
Suzuki
Nissan
Subaru
Mitsubishi
Mazda
Honda
Hyundai
Kia
Audi
Skoda
Fiat
Peugeot
Isuzu
Chevrolet
Lexus
Volkswagen
And more
Receive Your Free Car Removal Today
Call us for an Instant Quote (we provide car appraisals over the phone or online). After accepting our offer, you can schedule your Free Car Removal. Our Car Removal Professionals will then arrive on time to pay you on the spot and remove your vehicle free of charge. We make things even easier by providing all the required paperwork already prepared – you just need to remove your number plates and bring Photo ID and Proof of Ownership. You also have the option to drive your car to us yourself if It is still roadworthy. This might add up to $50 or so to our offer as you'll be making things easier for us by bringing the vehicle over to us.
Contact Sell Your Trucks for a quote today at 0410 726 726