Getting rid of your unwanted truck can be a lot of hassle, time and even money. That is, if you don't choose Melbourne's leading Cash for Trucks service Sell Your Trucks Melbourne. Not only will tow your vehicle with a Free Truck Removal Service, but we'll give you an Instant Cash for Trucks payment by Online Bank Statement or Cheque no matter what condition your truck is in. You can have your truck sold and removed today with our prompt Truck Removal Melbourne service.
Contact Sell Your Trucks Melbourne today at 0410 726 726 or online
Get Rid of Your Truck While Helping the Environment
Our Eco-Friendly Vehicle Recycling Facility dismantles, recycles and repurposes trucks. This process is extremely important for the environment, preventing vehicles from ending up in the landfill and also aids in more environmentally-friendly production of vehicles.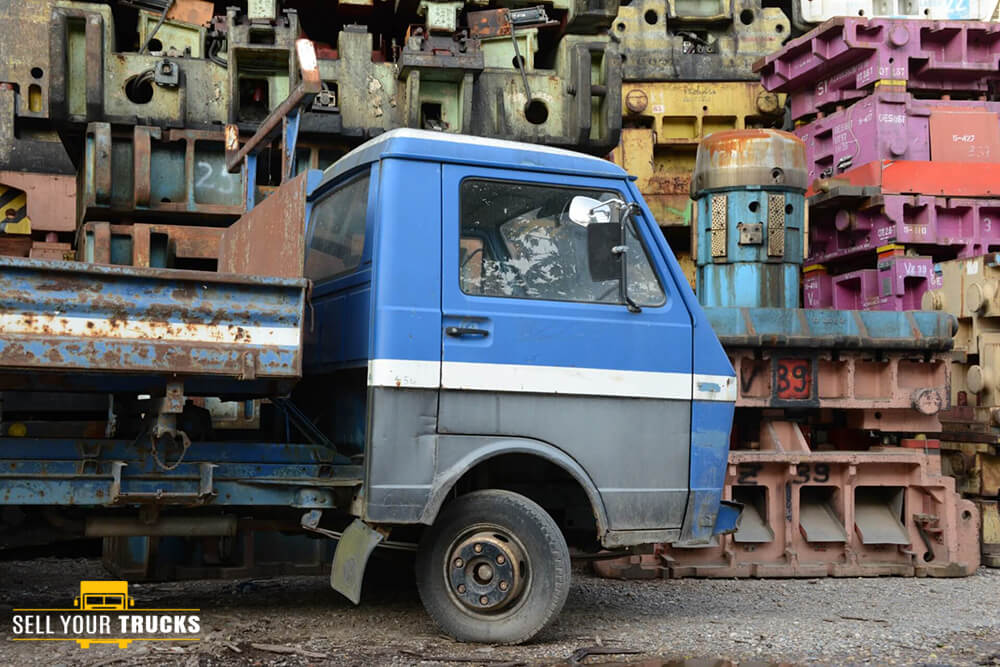 We Turn Melbourne Trucks in Any Condition into an Instant Cash for Trucks Payment
Sell your Melbourne Truck the hassle-free way with Melbourne's number 1 Cash for Trucks Business. No longer do you have to worry about prepping or repairing your truck to be more sellable, because we'll buy it 'as is'. You can relax knowing that no matter what happens to your truck, there will be a guaranteed buyer who will pay the industry's most competitive Cash for Trucks rates.
We Pay Cash for Trucks in Melbourne by Online Bank Payment or Cheque including:
Wrecked Trucks
Damaged Trucks
Old Trucks
Mechanical Fault Trucks
Unwanted Trucks
Used Trucks
Broken Trucks
Junk Trunks
Scrap Trucks
Registered/Unregistered Trucks
Flood Damaged Trucks
Accident Trucks
From Isuzu to Hino – We Pay Instant Cash for Trucks in Any Make or Model
Although some Vehicle Buyers in Melbourne prefer certain brands or models, Sell Your Trucks Melbourne will pay a fair Cash for Trucks sum for vehicles of all brands and types by Online Bank Payment or Cheque. However hard it may be to sell your vehicle to Traditional Vehicle Buyers, you can count on us for a highly competitive offer for your truck.
Some of the truck brands we often purchase include:
Isuzu
Hino
Cat Trucks
Volvo
Mercedes-Benz
DAF
Freightliner
UD
Mack
Kenworth
Western Star
Scania
Our Free Truck Removals Melbourne Service is the Fastest in the Industry
Sell Your Truck Melbourne's Cash for Trucks service is designed and perfected to be the industry's fastest and most convenient way to Sell Your Unwanted Truck.
Some of the ways we make selling your truck a breeze is:
Instant Quotes: you can receive our no-obligation quotes over the phone or online. This means you don't have to go through the hassle or time of having someone inspect your vehicle in person in order to quote you. We'll simply ask you for some details about your vehicle including its condition, make & model, size, weight, age and the number of kilometres it has been driven.
Instant Cash for Trucks: we'll pay you on the spot for your vehicle by Online Bank Payment or Cheque. So you don't have to spend time preparing your vehicle, we will happily buy it 'as is' whatever condition, make or model it is.
Free Paperwork: skip the hassle of going through mountains of paperwork to sell your truck. We provide all the necessary paperwork already prepared and free of charge. All you have to do is remove your registration plates and bring Photo ID and Proof of Ownership.
Prompt & Free Truck Removals: we can remove your vehicle in about half an hour, including payment. You can alternatively drive your truck to us, which may fetch you a slightly higher offer.
Contact Sell Your Trucks Melbourne for a quote at 0410 726 726 or online