Paying to have your truck towed to the landfill is a thing of the past thanks to Melbourne's leading Truck Removal business Sell Your Truck. We'll happily provide an Instant Cash for Trucks payment with ever truck we remove – even if that truck is in poor condition. Our experienced Truck Removal Experts, combined with our advanced tilt tray tow trucks, make us an unrivalled Melbourne Truck Removal Service. There's no question why we're considered Melbourne's number 1 Cash for Trucks service, and we strive every day to maintain that reputation.
Contact Sell Your Truck Melbourne today at 0410 726 726
Why We're Industry Leaders for Quality Truck Disposals in Melbourne
Over the years we have serviced countless happy truck owners who can attest to our peerless level of professionalism. There are many benefits of choosing Sell Your Truck Melbourne for your Truck Disposal Service, thanks to your benefit and satisfaction being our number 1 priority.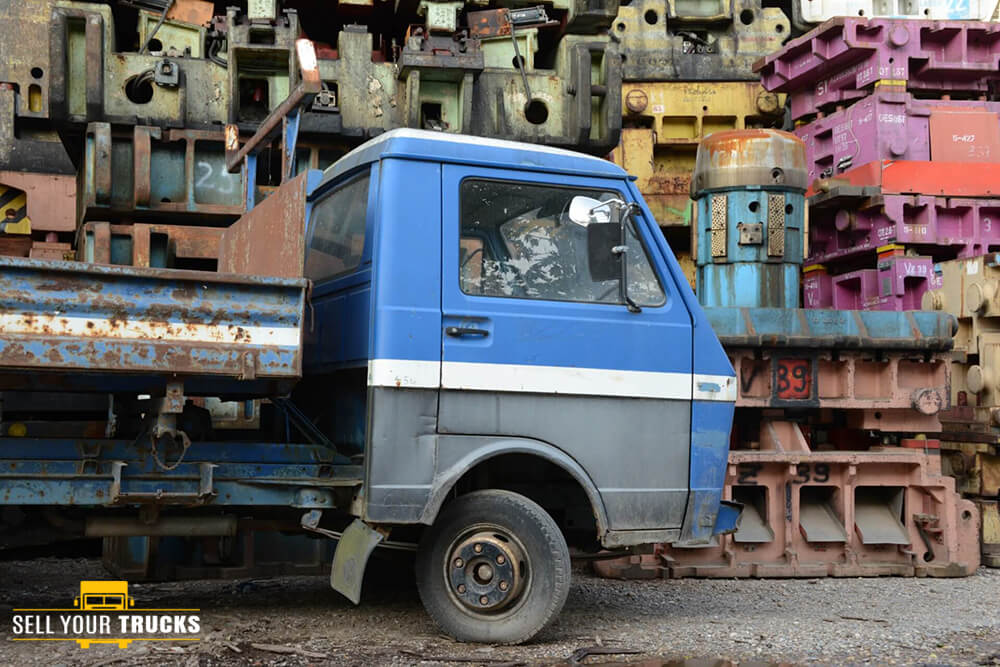 Some of these benefits include:
Instant Cash for Trucks in any condition, make or model by Online Bank Payment or Cheque
Free Truck Removals Melbourne Wide
Free Trucks Disposals Melbourne
Free Truck Wrecking
Eco-Friendly Truck Recycling
Instant Quotes
Free Paperwork
Licensed and Industry Experienced Truck Removal Experts
Advanced Tilt Tray Tow Trucks
Fast & Convenient Truck Removals
Is Your Truck Old, Wrecked or Damaged? You Can Still Receive a Top Cash for Trucks Payment When You Choose Us
For Sell Your Truck Melbourne, not truck is unsellable – even if it is no longer roadworthy. We find value in vehicles where nobody else can and will pay top dollar for your truck 'as is', whatever condition it is in. Unlike most Truck Buyers, we don't buy them to resell them, but to Recycle Truck and reuse their auto parts, metals and other materials.
This is why we can pay Cash for Trucks even in the worst shape by Online Bank Payment or Cheque, including:
Old Trucks
Damaged Trucks
Wrecked Trucks
Scrap Trucks
Broken Trucks
Accident Trucks
Unwanted Trucks
Mechanical Fault Trucks
Used Trucks
Junk Trucks
Flood Damaged Trucks
Registered & Unregistered Trucks
Are You Short of Time? We Provide Instant Quotes Over the Phone
We know you probably have better things to do than wait for potential buyers to visit your truck before giving you a quote. Sell Your Truck Melbourne provide Instant Quotes over the phone or online, without needing to view your truck in person. Our free truck appraisals can be given to you from the comfort of wherever you are and are no-obligation. We'll ask for some details about your truck such as its condition, its make & model, its size, weight and the number of kilometres it's been driven.
We Accept All Truck Brands and Will Pay You the High Cash for Trucks Payment You Desire
Some of the truck brands we buy include:
Isuzu
Hino
Mercedes-Benz
Freightliner
Cat Trucks
Western Star
Volvo
DAF
UD
Kenworth
Scania
Mack
Your Free Truck Disposal Melbourne Service is Just a Phone Call Away
Disposing of your unwanted truck has never been easier. First, call us for your Instant Quote and then book your truck removal. Next, get paid your Top Cash for Trucks sum by Online Bank Payment or Cheque as promised. You will have to remove your registration plates and bring Photo ID Proof of Ownership – we'll provide all the required paperwork already prepared for your convenience. Lastly, your truck will be towed from its location with your Free Truck Removal. You can also drive your truck to us if it is still roadworthy. This can potentially make you an extra $50 or so.
Contact Sell Your Truck Melbourne for a quote today at 0410 726 726