Trucks make the world go around but what happens when you own an Unwanted Damaged Truck? It'll be hard to sell it and expensive to tow it to a landfill. That's why a Cash for Trucks service that is trusted Melbourne wide is your best choice. Sell Your Trucks is the leading Truck Removal Melbourne Service, providing a professional Truck Removal service that gets you the Top Dollar payment your truck is worth. We pay Instant Cash for Trucks in any condition, make or model and can have everything completed in about 30 minutes. Before you know it, you'll have a lot of freed up space and a Top Dollar payment to enjoy.
Contact Sell Your Trucks Melbourne today at 0410 726 726
Give Your Damaged Truck the Send-Off it Deserves with Our Top Cash for Trucks Service
Sell Your Trucks Melbourne differs from most vehicle buyers. We buy vehicles for their metals, materials and other auto parts such as their tyres, rims, bumpers, converter and more. This means we will happily pay you an exceptional Cash for Trucks sum even if your vehicle can no longer start up, is wrecked or simply unwanted. You can sit back and relax knowing that no matter what happens to your truck, we'll buy it 'as is' and collect it free of charge. All you have to do is call us and we'll be with you in no time at all.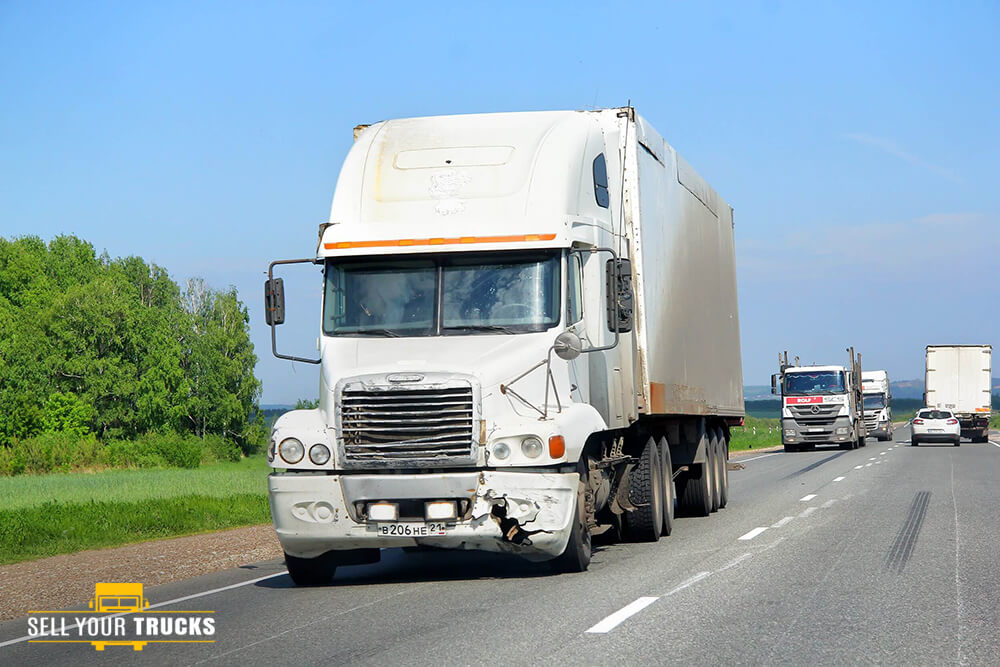 We pay Cash for Trucks in any condition by Online Bank Payment such as:
Wrecked Trucks
Junk Trucks
Broken Trucks
Accident Trucks
Scrap Trucks
Mechanical Fault Trucks
Unwanted Trucks
Registered/Unregistered Trucks
Used Trucks
Old Trucks
We Combine Experience, Advanced Tow Trucks and Honest to Make Melbourne's Number 1 Damaged Truck Removal Service
With Sell Your Trucks Melbourne, you get a peerless Truck Removal service that can be completed confidently in about 30 minutes. Wherever your truck is located and in what condition, our team know how to handle it.
1. Call us for an Instant Quote. We can provide these over the phone and don't need to come and see your truck first.
2. Next, schedule your Free Truck Removal Melbourne service at a day and time that suits you best.
3. Our team will then arrive where you'll be paid your Cash for Trucks offer by Online Bank Payment or Cheque.
4. Lastly, you'll receive your Damaged Truck Removal which will be completed in minutes. You can also deliver it to us yourself if you'd prefer (and it's still roadworthy). This can potentially add an extra $50 or so to your offer.
We can bring all the required paperwork to speed things up for you. Just bring photo ID, proof of ownership and remove your registration plates – we'll take care of the rest!
We Make the Disposal of Your Truck Eco-Friendly
One of the biggest contributors to pollution is the countless vehicles in Australia that end up in the landfill each year. This is why more Australians than ever are choosing eco-friendly ways to dispose of their vehicles and there's no one better for this than Sell You Trucks. Our Vehicle Recycling Facility dismantles and Recycles Trucks for their auto parts and other materials. Not only is this great for the environment, but it also rewards you with a highly agreeable Instant Cash for Trucks payment.
We Pay Honest Cash for Trucks Rates for Trucks in Any Make or Model
Some of the brands we often buy include:
Kenworth
UD
DAF
Cat Trucks
Scania
Freightliners
Western Star
Volvo
Mercedes-Benz
Isuzu
Mack
Hino
Sell Your Trucks Melbourne is Melbourne's foremost authority for high quality and dependable truck removals. Our team will get you the exceptional Cash for Trucks payment you seek without all the usual hassle that can come with selling your vehicle.
Contact Sell Your Trucks Melbourne at 0410 726 726