Wondering what's the best option for getting rid of your unwanted Van? Finding the right Vehicle Buyer can take a lot of time and hassle, especially if it's not in great condition. But a well-regarded Cash for Vans Melbourne business like Sell Your Trucks has the answer: Instant Cash for Vans in any condition. Even if your Van is Old, damaged after an accident or completely wrecked, you can rely on Sell Your Trucks for a very agreeable Cash for Vans deal. Not only will we offer you an honest Instant Cash payment, but we'll also collect your unwanted Van with a fast & free Van Removal service. You can receive your Van Removal service the same day you contact us in a process that takes all-in-all about 30 minutes.
Contact Sell Your Trucks Melbourne today at 0410 726 726
We Have Over 15 Years of Industry Experience and the Result is an Unrivalled Cash for Vans Service
Our Licensed Van Removals Experts are handpicked for their years of Vehicle Removal experience, professionalism and peerless reliability. We know how important it is for Melbourne residents to be able to sell their vehicle hassle-free and for an agreeable price. Combining honesty with experience, it is no surprise why we're considered Melbourne's Top Cash for Vehicles service.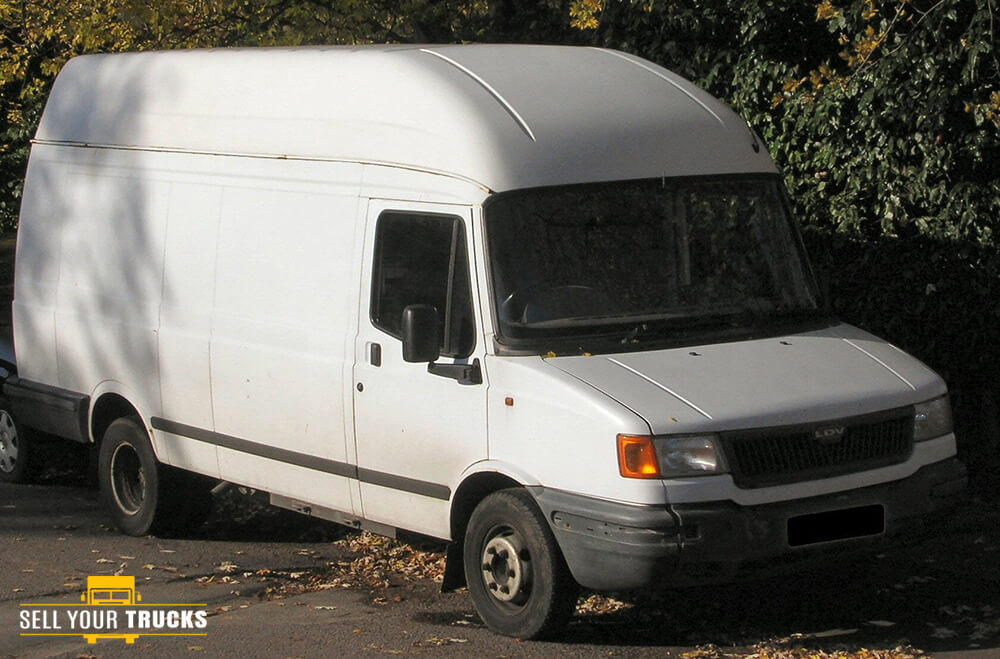 Skip the Grind of Getting Vehicle Quotes – We Provide Instant Cash for Vans Quotes Over the Phone
With Sell Your Trucks, you can receive Instant Quotes over the phone which are no-obligation and free. Unlike most vehicle buyers, we don't need to view your Van to provide a Vehicle Appraisal – you can receive a quote from the comfort of wherever you are when you call us. We'll ask you for some details about your Van such as the number of kilometres it has been driven, its condition, make & model, size, weight and age.
Get Melbourne's Best Cash for Vans Offers – Even When Your Van Is in Poor Condition
Before you tow your unwanted Van to a landfill, consider having it collected for free and getting paid top dollar instead! We buy vehicles for their auto parts and other materials to recycle, so we value Vans even when they are no longer roadworthy.
We pay Cash for Vans in Melbourne by Online Bank Payment or Cheque even if they are:
Damaged Vans
Registered & Unregistered Vans
Wrecked Vans
Broken Vans
Accident Vans
Unwanted Vans
Mechanical Fault Vans
Junk Vans
Old Vans
Scrap Vans
Used Vans
Hail Damaged Vans
Our Advanced Tow Trucks Can Handle Any Van Removal Melbourne Wide
With our state-of-the-art tow trucks, driven by our experienced Vehicle Removal Team, you can count on your Van being collected with ease wherever it is located. Even accident vehicles located in an awkward position can be removed with ease by our team whether they be on-road, off-road, on residential or commercial properties.
Whatever Make or Model – We'll Pay You the Top Dollar Amount Your Van Is Worth
We value all Van brands and models including:
Toyota
Mazda
Ford
Isuzu
Nissan
Volkswagen
RAM
And More
How to Get Melbourne's Top Cash for Vans Offers Today
First, call us to get your Instant Quote and book your Free Van Removal. Next, get paid on the spot by our Vehicle Removal team. You'll have to remove your registration plates, bring photo ID and proof of ownership – we'll handle the rest of the paperwork to make things more convenient for you. Your unwanted Van will then be towed from its location.
Contact Sell Your Trucks Melbourne for a quote today at 0410 726 726